Camera Link Repeater
산업용 Camera Link Repeater는 산업용Camera와 Frame Grabber 간의 전송거리 연장을 목적으로 설계되었습니다.   산업용 카메라로 찍은 대용량 초정밀 영상신호를 증폭하여 손실없이 실시간 초고속으로 영상취득장비(서버PC등)에 전송합니다.   카메라링크 리피터는 단거리 구리 케이블용과 장거리 광케이블용이 있으며, 전송거리를 연장하여 머신 비전 시스템을 단순화하고 비용을 최소화시켜 줍니다.   산업용 검사장비, 방송통신, 의료영상, 보안등 급변하는 응용산업분야에 신속하게 최상의 솔루션을 제공합니다.
The Industrial Camera Link Repeater is designed to extend the transmission distance between the Industrial Camera and the Frame Grabber.  It amplifies the high-capacity, high-precision image signal taken with an industrial camera and transmits it to the imaging acquisition equipment (server PC, etc.) at a real-time high speed without loss.   There are camera link repeaters for short-range copper cables and for long-distance optical cables, and extend transmission distances to simplify machine vision systems and minimize costs.  It provides the best solutions to rapidly changing application industries such as industrial inspection equipment, broadcasting and communication, medical imaging, and security.



Product Classification  No. 1 



Product Classification  No. 2



Product Classification  No. 3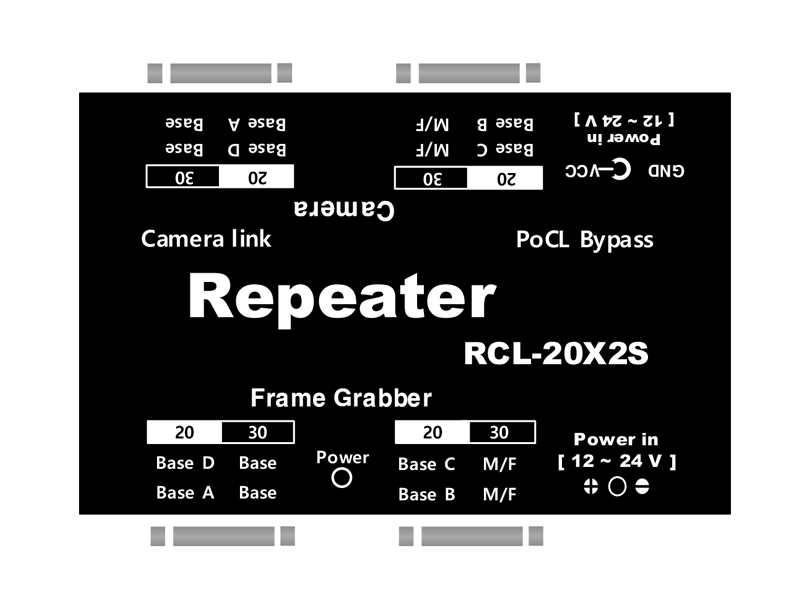 | Product | RCL-20X2S |
| --- | --- |
| Pixel Clock Range | 20 ~ 85 [MHz] |
| PoCL ByPass | RCL-20 x 2 Small Size |
| Supported Camera Configration | 2 x Dual Base Medium Configuration |
| Sync. Signals | LVAL, FVAL, DVAL |
| Camera Control | CC1 ~ CC4 |
| Serial Communication | SerTFG, SerTC |
| Connector Type | SDR |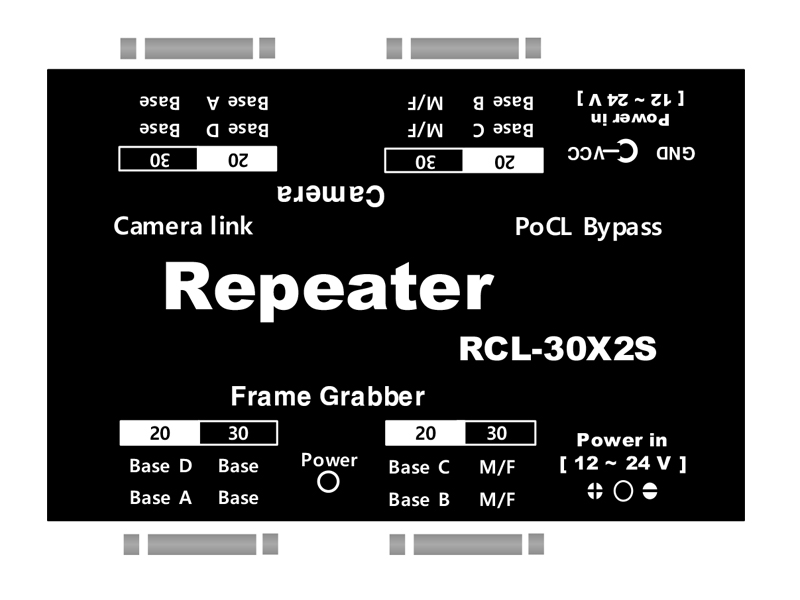 | Product | RCL-30X2S |
| --- | --- |
| Pixel Clock Range | 20 ~ 85 [MHz] |
| PoCL ByPass | RCL-300 X 2 Layer |
| Supported Camera Configration | Base Medium Full Configuration |
| Sync. Signals | LVAL, FVAL, DVAL |
| Camera Control | CC1 ~ CC4 |
| Serial Communication | SerTFG, SerTC |
| Connector Type | SDR |